The not so New Kid on the Block: Christine!
Christine has been a hairstylist since 2013 and with us at Tafoya Salon since 2019.  She is our hometown kid with a passion for hair since she was a little girl.  Through out her career she has specialized in special event styling and has an excitement for Balayage and 'Fun Colors'.  She has been eager to learn new skills during her time with us.  Most recently she has been perfecting her makeup skills with guidance from Sarah.  
Check out some of her work!
"My go to's for shampoo are botanical shampoo and then damage remedy shampoo . I just love how nourishing and strengthening they both are . Plus, the smell is fantastic!!  My most favorite conditioner is most definitely going to be blonde revival . Since I have blonde hair and this helps prolong my color. Then to finish it off I use my Pramasana protective scalp concentrate.  I have thick hair and my scalp tends to get upset and this just helps keep it under control."
We are superduper Aveda lovers.  BUT… sometimes have a Non-Aveda product or two that are what we refer to as "Contraband" at home or locked secretly away.  Here's Christine's Favorite and why.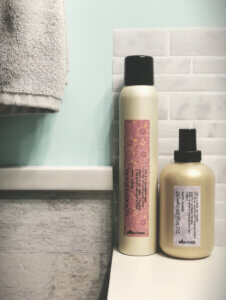 "My contraband is going to have to be my blow dry primer and shimmer mist from the line Davines.  The blow dry primer helps protect my hair and makes it feel nice and soft and the shimmer mist helps give my blonde nice shine without looking greasy."
Book with Christine
Today!
Hours:  Monday 10-6  Tuesday 11-7  Wednesday 11-7  Friday 9-5  Saturday 8-3 
Call to schedule: 763-427-0511
Instagram: @hair_by.christine