Justina started at Tafoya Salon in 2008 and just recently returned from her third maternity leave.  She loves everything from styling/blowouts to making big color transformations!  Some of her talents include working with blondes, and trying out new formulas and placements to keep her clients looking fresh.  She also loves to teach people styling techniques they can easily recreate at home. "Making people feel their best is my passion!" – Justina
Check out some of her work here!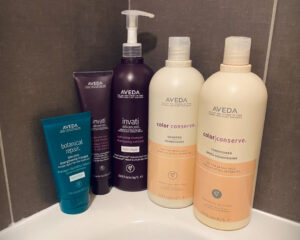 "My go to shampoo and conditioner is Color Conserve! I love that it cleanses great and doesn't weigh my fine hair down. I'm also alternating that with the Invati system right now to help with my postpartum hair loss. Also, once a week I make sure to deep condition with the Botanical Repair intensive strengthening masque (light) to reduce breakage."
We are superduper Aveda lovers.  BUT… sometimes have a Non-Aveda product or two that are what we refer to as "Contraband" at home or locked secretly away.  Here's Justina's favorite and why.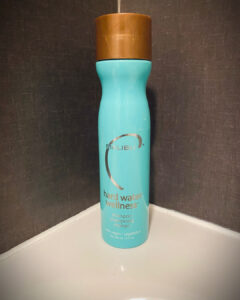 "My favorite non-Aveda product is the Malibu hard water wellness, because even though we have a softener our water can be hard. I use it at least every other week to strip any hard water or product build up off my hair, and it feels so light and shiny again!"
Hours: Wednesday- 5-9 Thursday- 4-9 Friday- 10-6 Saturday- 9-5
Call the salon to book: 763-427-0511