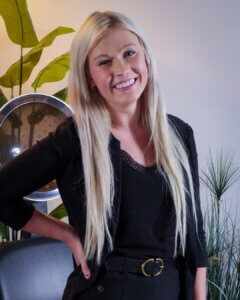 Since Katelyn was young she has had a fascination with styling and working with hair.  She even caught the attention of her mom when she performed a professional looking haircut on one of her favorite dolls.  As she was growing up she spent a lot of time working on her friends for special occasions and creating new color looks.  With Covid derailing her post graduation plans, she was finally able to attend the Aveda Institute in Minneapolis in the fall of 2021.  During her schooling she joined the Tafoya Team in May of 2022 and became the salon assistant.  She jump started her salon training by assisting the master stylists with shampooing and blow drying.  In November 2022, Katelyn graduated from the institute with her cosmetology licence and became an official New Talent Stylist on the Tafoya Team.  Katelyn has since been working on her building her skills with color theory, color placement techniques, and hair cutting skills.  In the future she is excited to learn more specialized skills such as extensions and makeup.    
Check out Some of her work here!
Follow her on Instagram for more looks!